February 13th, 2018 |
Back Pain
|
Comments Off

on Heavy School Bags – An Immediate Concern for Parents
Heavy School Bags – An Immediate Concern for Parents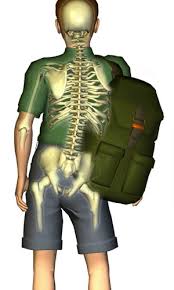 It is a very common sight to see children trotting to school with their back hunched forward as they balance their heavy school bags. Carrying heavy bags to school has been a concern for many parents across the world. With heavy and incorrectly fitted backpacks children are at the risk of spinal damage. Health experts feel that this is an alarming issue which should be addressed immediately. Chiropractors Dr Chatfield and  Dr Georgis explain that it is not only the weight of the bag, but also the type of bag that can affect a child's back.
School bags have a significant impact on the growing and developing bodies of young children and can greatly affect a child's musculoskeletal health not only today but in the future as well. Heavy school bags can cause muscle strain, fatigue, distortion of the spine, and back pain. If a child does not carry the bag across both shoulders then it puts extra  uneven pressure on the side  carrying the bag and this can have negative impact on the spine.
Recommended weight for school bags
Health experts advise that a child should carry not more than 10 % of his/her body weight overall and this includes books, lunch box, water bottle etc.
Tips for an ideal school bag
The first and foremost step is to help your child choose a correctly fitted backpack. Here are few tips to choose an ideal back-pack.
Choose a bag with 2 adjustable padded shoulder straps and padded back.
Buy a school bag made with light-weight materials such as canvas
A bag with a hip strap or a waist belt can also help in distributing the weight.
The school bag should not be wider than the child's shoulder.
Lastly, the bag should not hang below the waist.
Unfortunately some schools have a very limited choice for bags – pressure on the school to provide more ergonomic options is needed !!!
How to help prevent damage to the spine?
P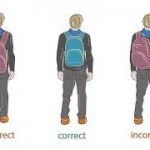 arents should guide their children on a daily basis on how to pack books in their backpack to ensure even weight distribution. If the school provides a locker facility, the child can use this for keeping extra books and notebooks at school to avoid carrying them as much. A  wise way to distribute weight is to keep the heavier books at the back of the bag i.e. closest to the spine.
Dr Chatfield says that parents should keep an eye on their child's posture. The sitting posture reveals how their back feels. He adds that if your child is regularly shuffling on their bottom as they  sit down or continuously slouches while sitting this means that he/she is probably trying to find a position that is more comfortable. If you see such behaviour then definitely ask your child if his/her back is hurting.
Above all, keep your children active. Increased activity helps build stronger muscles and bones which can help reduce pain from carrying heavy school bags.
Still concerned about your child's back health?
If you think that your child is suffering from back problems that might be related to carrying a heavy school bag contact Chatfield Chiropractic in Roxburgh Park (03) 9303 9952 or Sunbury (03) 9746 3977 for a consultation.