Chiropractic Care for Football Playing Children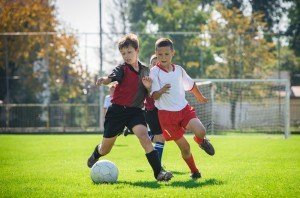 Kids love playing football, there are no two ways around it. The end to end action, the thrill of it, and the inevitable rough and tumble that comes with it make it one of the most popular sports for children to play. But, with the physical contact that comes as part and parcel of the game, injuries do unfortunately happen from time to time. Numerous studies have been done into this to highlight the facts and figures, and these have conclusively proved that (even with rule modifications to lessen the possibility), it is almost certain that kids will suffer an injury playing football at some point. Despite all of this, with the correct preventative measures that chiropractic care can offer, the risk, and more importantly, the severity of such injuries can be made less of a worry.
Injuries and Development in Children Playing Football
As stated, injuries are an unfortunate aspect the game, even for children playing football. Sprains and strains happen to everyone, no matter your level of fitness or experience, and this is heightened in such a physical contact sport like football. If you take into account the way children develop, some kids grow bigger and quicker than others, which can also cause strain on their bodies from the growth alone, let alone the physical impacts that come from playing. With chiropractic care, you can reduce the chances of these injuries occurring, particularly muscular issues such as hamstring or calf injuries. Working to understand and correct any underlying issues, chiropractic care can provide the perfect base for them to thrive in their sporting field, free from the worry of nagging issues.
Chiropractic Care at Chatfield Chiropractic
Our chiropractors are trained to work just as effectively with children as well as they are with adults, which will only help them to develop and fulfill their footballing potential. Our chiropractors work closely with the children to identify and understand what their issues are and what it is that bothers them when playing, to fully be able to support them completely. The care provided envelops proactive treatment as well as reactive care, which entails working with our patients to provide a plan to treat injuries but also using a planned programme to help correct underlying issues as well. This means that these issues will be sorted in the long term as well as the short term. Taking all of this into account, chiropractic care is a worthwhile investment that pays off in the long term. The benefits of regular care are enormous, as it is much easier to prevent an injury than have a recurring one for your child to deal with as their body continues to develop!
Consider visiting Chatfield Chiropractic to see our fully licensed professionals who can help people of all ages. Our chiropractors have over 15 years of experience in the industry, and really enjoy working with patients of all ages including children. We particularly specialize in using our care to support treatment and rehabilitation for athletes.