A NEW CHIROPRACTIC TABLE IS ARRIVING TO ROXBURGH PARK Flexion – Distraction
EXCITING NEWS 
Dr Janet & Dr Dan are really excited about purchasing a new chiropractic table that does a technique called FLEXION DISTRACTION . Fingers crossed it will arrive this week to the Roxburgh Clinic – It is being shipped from the USA & we have waited patiently for 4 months for delivery  !!!!
What is Flexion Distraction?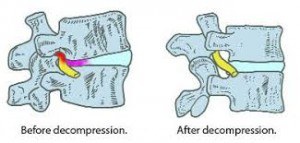 Within the centre of a disc is a gel like substance called Nucleus Pulpolsus & this is surrounded by circular fibous ring called anular cartilage . The break down of these rings & the movement of the nucleus is often the cause of a bulging disc , otherwise known as a disc protrusion. Flexion distraction, a well-known  & established chiropractic technique combines the principles of chiropractic and osteopathic using slow manual traction to mobilise the nucleus pulpopsus. It allows the nucleus pulposus  to assume its central position within the anular fibers and relieves irritation of the spinal nerve.
Some patients with bad disc problems  respond poorly or slowly to Chiropractic treatment . This table is a great alternative to those people & provides a genuine alternative to more invasive interventions such as surgery or epidural injections.
This treatment consists of a non-force procedure which helps in taking off the pressure from spinal nerves that are dysfunctional or injured. This therapy is done on a cushioned and ergonomically designed table that can accommodate all ranges of spinal correction.  This therapy is  a gentle technique which aims at increasing the movement of the spine.
THIS TABLE CAN BE PARTICULARLY GOOD FOR PATIENTS THAT HAVENT RESPONDED WELL TO OTHER FORMS OF CHIROPRACTIC OR PHYSIOTHERAPY
Benefits and uses of Flexion Distraction Table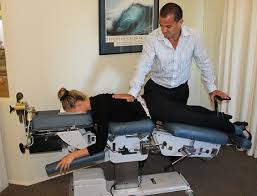 Flexion distraction tables are multi-purpose and adjustable treatment tables that are designed to apply forces to the spinal structure with continuous motion. Spinal conditions that can be treated with this therapy include-
General back pain
Spondylosis
Sciatica
Joint disorders
Scoliosis
Facet syndrome
Spondylolisthesis
Sprain/ strain
Arthritis
Failed back surgical syndrome
The flexion distraction process involves spinal traction that gently stretches the spine, surrounding soft tissues, and intersegment discs.  This therapy is beneficial for patients since –
It reduces the pressure on the spinal nerves from a disc bulge.
It helps in increasing the spinal motion with the disc and spinal joints.
The therapeutic stretches that are applied before spinal adjustment relaxes the patient and stretches the targeted soft tissue thus leading to comfortable spinal adjustment for the patient.
By using the distraction table the practitioner has to apply less coercive pressure for joint correction therefore making the adjustment procedure more comfortable for the patient.
Apart from increasing the joint motion, it helps in lengthening the muscle fibers that have contracted from excessive use or disuse.
The distraction table helps to restore the post injury muscle flexibility.
It also assists in removing natural wastes like lactic acid from muscles.
It restores muscle balance, relieves stress and tension.
So, if you or any of your family members or friends that are struggling with a lumbar disc or have a chronic lumbar back issue , please consider this new table as a gentle & effective  treatment option . Any more questions please call  Chatfield chiropractic in Roxburgh Park on (03) 9303 9952 or Sunbury (03) 9746 3977 and we will happy to  HELP!!!